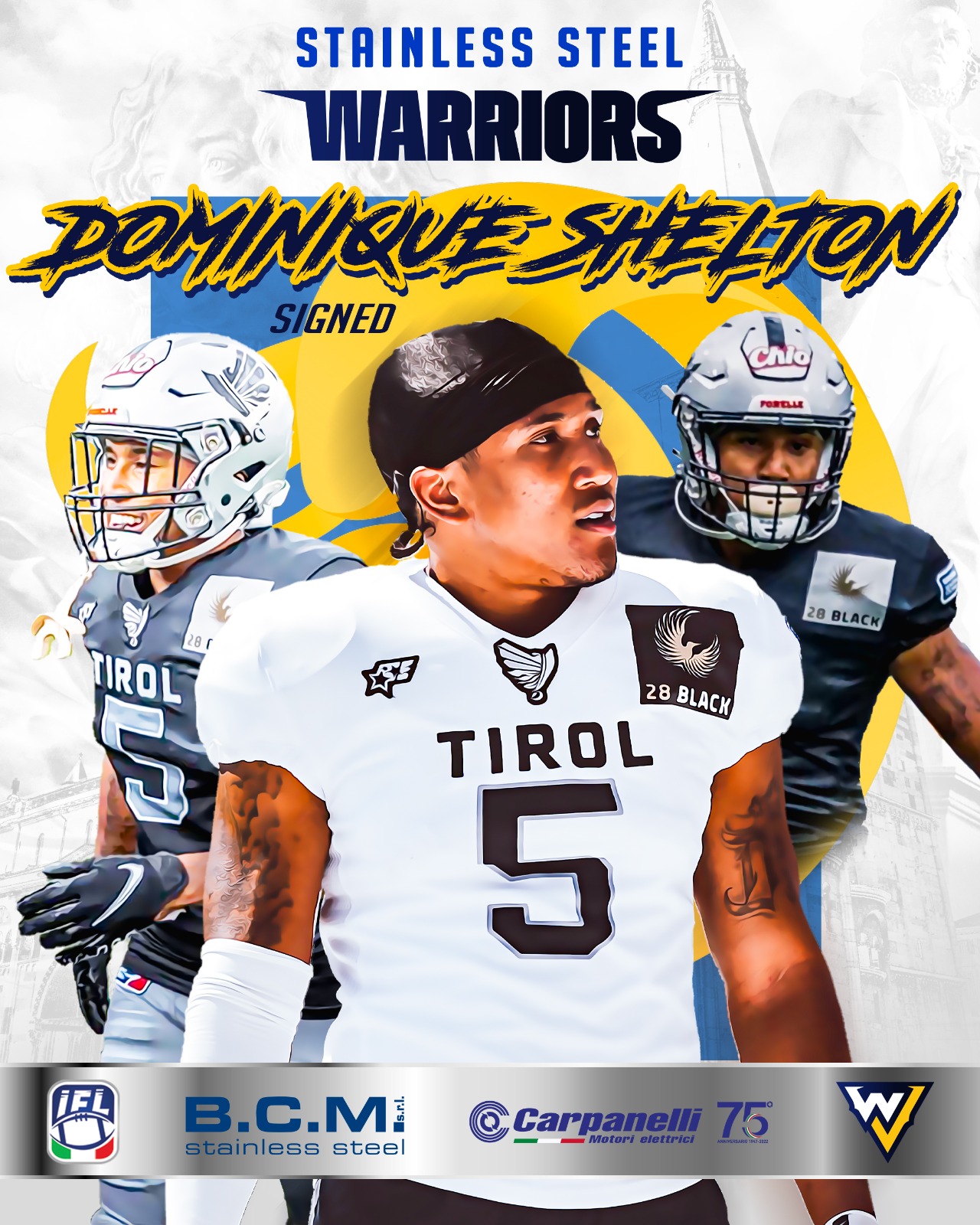 Annunciato il secondo import per la stagione 2023
Secondo import di spessore per gli Stainless Steel Warriors Emilia, che oggi danno il benvenuto a Dominique Shelton, DB proveniente dalla Northwest Missouri State University.
Ventiquattro anni, nato a San Francisco, California, Shelton ha esperienza di gioco in Division 1, dove ha militato per la Mississipi Valley State, prima di passare alla NMSU e tentare la via del Draft NFL nel 2022. In Europa, la scorsa stagione ha giocato in ELF, per gli Swarco Raiders Tirol prima e per i Berlin Thunders poi, dove ha messo in mostra le sue qualità di giocatore atletico e molto veloce. 177 cm di altezza per 88 kg di peso, Shelton è stato scelto dal coaching staff emiliano per la sua versatilità, che consentirà di schierarlo sia in difesa, come DB, che in attacco come RB.
Benvenuto Dominique!

Second significant import for the Stainless Steel Warriors Emilia, who today welcome Dominique Shelton, DB, from Northwest Missouri State University.
Twenty-four, born in San Francisco, California, Shelton played in Division 1, for Mississippi Valley State, before moving to NMSU and attempting the 2022 NFL Draft. In Europe, last season, Shelton played in the ELF, for the Swarco Raiders Tirol first, and then for the Berlin Thunders; he showcased his qualities as an athletic and very fast player. Standing at 177 cm and weighing 88 kg, Shelton was selected by the Emilian coaching staff for his versatility and ability to play in defense, as DB, and in attack as RB.
Welcome, Dominique!